Sunday, August 6th, 2017
Sunday, July 9 was bittersweet for the St. Hilda St. Patrick congregation, as The Rev. Cynthia Espeseth (Mother Cynthia) celebrated her last service with us before moving on to her new calling in Colorado.
Mother Cynthia was the vicar at St. Hilda St. Patrick for nearly a decade. Last winter, during a visit to see family in Colorado, her home state, the spirit moved her, telling her it was time to return to her childhood home. The pieces fell neatly in place, facilitating her response to God's call, and in June, Cynthia began preparing us for her departure.
On her final Sunday, we celebrated the baptism of a youngster in the church, one of Mother Cynthia's favorite duties as vicar. The service was attended by many special friends and former parishioners from Mother Cynthia's other churches here in the Diocese of Olympia. Worship was followed by a wonderful western-themed lunch. Mother Cynthia was presented with a memory book and other thoughtful gifts to help her make her new home in Colorado. She takes our love and prayers with her as well.
We will miss Mother Cynthia. Her legacy to our congregation of caring and loving, of emphasizing the importance of our community both to each other and to the greater world at large, will continue on. In the meantime, we welcome The Rev. Mark Miller as our Priest in Charge to be our spiritual leader and guide through our search for a new vicar.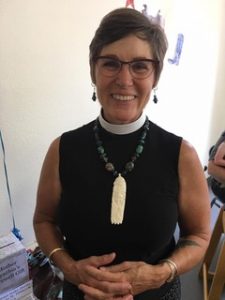 Sunday, December 11th, 2016
Audio recordings of Sunday sermons are now located under the Sermons menu item (see menus at top left corner of site).