Monday, September 18th, 2017
This Fall, the church begins it's time of transition between the Rev Cynthia Espeseth, our long-time priest, and the next permanent vicar to be chosen during the next year. The Rev. Mark Miller is interim vicar until that happens. He retired this past year after many decades of experience. "I have found this church full of very cooperative leaders and members who are ardent in love for this congregation and dedicated to making it available and welcoming for all persons," he said after the first months this summer.
Tuesday, September 12th, 2017
This hands-on, "Montessori"-style learning time is for children in 1st through 3rd/4th grades. It is based on learning the stories of the Bible by showing them in small images and figures which the children handle, and then asking "I wonder…" about how it was to be there when these stories happened.
Godly Play meets every Sunday at 9:30am (at the same time as the regular service).
Monday, August 28th, 2017
As we enter into the first phase of finding our next vicar, we have selected and are praying for our Profile Committee.  Its members are Rick Paul, Valerie Kelley, Greg Walrath, Andrea Riseden-Perry, Bill Plankenhorn and Carol Rypkema.
Together they will oversee a survey of our congregation members, review the feedback with a consultant from the Diocese, and author a document which tries to paint a picture of who St Hilda St Patrick is; how we feel called to be the hands and feet of Jesus in our broader neighborhood; and what traits and experience we are looking for in our next vicar.
The written profile must be an open, honest representation of our church, and it must present a welcoming invitation to others.
Once our profile has been completed and blessed by Bishop Greg, it will be posted to our website and to a search website for interested clergy to see and respond.
At that point we will then enter into our next phase – the Search Committee.
Please join us in praying for our Profile Committee and for each other in the months to come.
In peace and grace,
Michael Rader
Senior Warden
Sunday, August 6th, 2017
Sunday, July 9 was bittersweet for the St. Hilda St. Patrick congregation, as The Rev. Cynthia Espeseth (Mother Cynthia) celebrated her last service with us before moving on to her new calling in Colorado.
Mother Cynthia was the vicar at St. Hilda St. Patrick for nearly a decade. Last winter, during a visit to see family in Colorado, her home state, the spirit moved her, telling her it was time to return to her childhood home. The pieces fell neatly in place, facilitating her response to God's call, and in June, Cynthia began preparing us for her departure.
On her final Sunday, we celebrated the baptism of a youngster in the church, one of Mother Cynthia's favorite duties as vicar. The service was attended by many special friends and former parishioners from Mother Cynthia's other churches here in the Diocese of Olympia. Worship was followed by a wonderful western-themed lunch. Mother Cynthia was presented with a memory book and other thoughtful gifts to help her make her new home in Colorado. She takes our love and prayers with her as well.
We will miss Mother Cynthia. Her legacy to our congregation of caring and loving, of emphasizing the importance of our community both to each other and to the greater world at large, will continue on. In the meantime, we welcome The Rev. Mark Miller as our Priest in Charge to be our spiritual leader and guide through our search for a new vicar.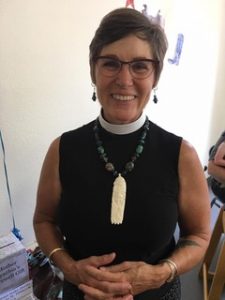 Sunday, December 11th, 2016
Audio recordings of Sunday sermons are now located under the Sermons menu item (see menus at top left corner of site).